First, I know you're all dying to know... I did NOT win a prize in the pie contest. Even though my "Pearfection Pie" looked like this: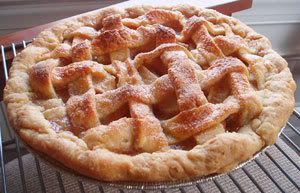 There were a lot of good pies in the contest: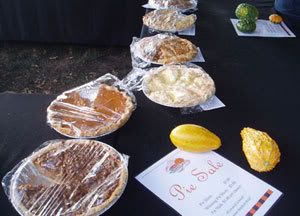 My friend Patt won second place with a pineapple cream pie. Look at his shiny award!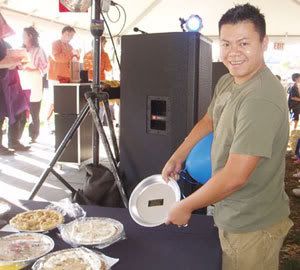 That meant you had to cough up $3 per slice for his pie, while the losers' slices went for a measly $2. All proceeds from the entry fees, pie sales, and the pie walk (seen below) went to
Loudoun Interfaith Relief
. The little boy who emceed the pie walk was adorable, BTW.
There were lots of food and crafts vendors: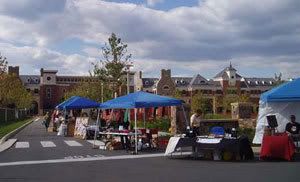 I had a delicious turkey sandwich from the Spicy Pickle folks.
Spicy Pickle
is in that restaurant strip on Waxpool Rd.(the one with Five Guys and Moe's), and I'm definitely going to have to go check them out.
Kids enjoyed the train ride, the petting zoo, pony rides, moon bounce, and other rides, including the mechanical bull:
Entertainment was provided by some great bands, including The Groove and Bramble On (seen here):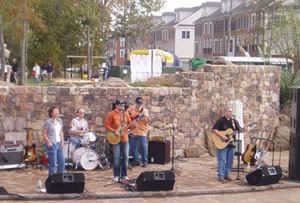 Some random Brambletonians having a good time, one of whom may be my husband: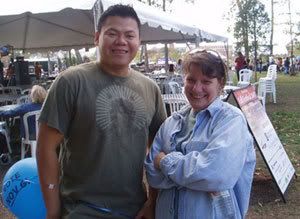 Dulles District supervisor candidates Stevens Miller and Steve Snow were present, with tents directly opposite one another on Olympia Drive. At Miller's tent, visitors were presented with a balloon and reasonable discourse on the issues facing our district. At Snow's tent, visitors received a free snow cone and a sticker surreptitiously slapped on their backs. (One local mother was furious because her kid had one on him and didn't know it.) Nothing's truly free, kids... there's a life lesson for you. Snow's camp also had a vintage car, which had zoomed down my street at high speed earlier in the day, passing me as I was walking my pie to the park. If I'd only had my radar gun with me! I like to give you hard data, people.
We had a great time at the Fall Fest, and much thanks goes out to the hard workers on the Activities Committee and the HOA. Even the weather cooperated nicely. This event has come a long way since the first Fall Fest (scene of the infamous "Pizzagate"). Patt and I are going to train hard for next year's contest... the silver has only made him want the gold even more, and I just want to be able to get my pie to the tent with the crust intact.