If you're like BrambleDirt, you've been getting tons of last-minute political flyers and mailings in this last week before the election. I've gotten several postcard-type mailings from Steve Snow (and a lovely letter from his wife, "handwritten" on pink stationery), but this one in particular caught my eye: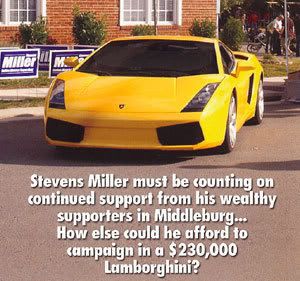 I'd seen this car before. It was parked next to Stevens Miller's tent at the Brambleton Fall Fest. Steve Snow's tent was directly across the street, facing this car. Snow also had an eye-catching automobile next to his tent. I read the postcard, thought it was crap, and threw it in the recycling bin with the other lies.
But then something interesting turned up at BrambleDirt headquarters. An unedited photograph of the car in question:
The Snow campaign edited out the "Lamborghini Washington" window shade text. The car was there strictly as an advertisement for Lamborghini Washington, and Lamborghini Washington is neither supporting nor affiliated with any political party.
Ironically, this same flyer says this: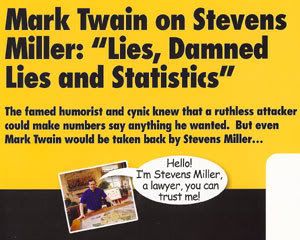 People, we get the government we deserve. Snow calls Miller a liar in an ad that is in itself an obvious lie. (He's also using that photo of Miller without permission.) If you vote for him, you are asking for an unethical Supervisor to represent you. How can you trust him?
P.S. The Washington Post
has endorsed Miller
. They say:
The incumbent, Republican Steve J. Snow, thinks the county should absorb however many new houses the market will bear. Democratic challenger Stevens R. Miller, with broad experience in local government matters, is a bright lawyer who would help restore common sense to growth policies.